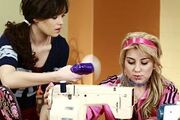 Stella:
"Macy guess what?"
Macy: "What?"
Stella: "I love you! (hugs her)"
- An exchange between Stella and Macy in Detention.

Macy and Stella is the friendship of Macy Misa and Stella Malone. They are best friends.
Friendship Moments
Edit
Macy helps Stella test her Stellcro.
Stella gets traped inside Macy's mom's store.
Macy spent the money on a chip that looks exactly like Joe (Stella's occasional love intrest).
Macy and Stella were ina fight the entire episoe until the end.
Stella got a dip for Macy that looked exactly like Nick (Macy's occasional love intrest).
Stella knew Macy couldn't sing but didn't tell here because she didn't want to hurt Macy's feelings.
Macy and Stella bet on who can go without doing there obbsessions longer (Stella can't text Macy can't say Jonas).